She's our home and transportation around America's Great Loop!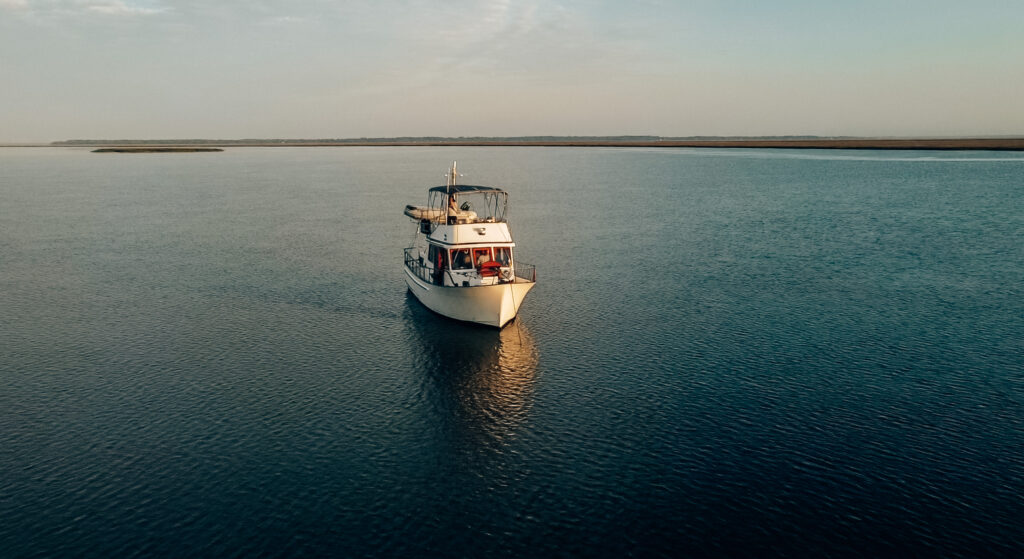 WHAT'S THE STORY BEHIND PIVOT?​
We named our boat PIVOT after having to pivot due to the global pandemic from our original travel plans. We think of it as the opportunity to embrace change and new adventures.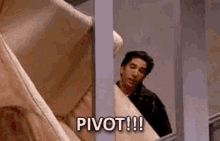 piv·ot | \ ˈpi-vət
: to turn on or as if on a pivot
Prior to owning PIVOT and deciding to travel around America's Great Loop, we had left our jobs and career paths in September 2019 for an Around the World trip, a gap year of sorts before we settled down and dove into our careers further. Half way into our year around the world trip, we had visited 10 countries and 3 continents and found ourselves lockdown in India.
"Plans are written in the sand at low tide." – Unknown
5 months later, we left India feeling sad that our year of travel was over. We knew we wanted to continue traveling, exploring, and trying new things. We knew our next chapter of travel would be domestic since international travel was challenging, so we looked into converting a van, buying a used RV, or purchasing a boat. So we bought a boat and decided to embark on America's Great Loop. Neither one of us have a great deal of prior boating experience. Jen spent some weekends on her step-dad's sailboat in Long Island Sound helping to pull up the mooring ball, but no real sailing experience. Elliot can count on one hand the amount of times he's been on a boat with the majority of his experience being a Galapagos Luxury Cruise we went on during our year of international travel. Both of us had never stepped foot on a trawler before we bought our boat PIVOT and experienced the slow moving pace of a trawler on the water for the first time when the previous owner was explaining the various systems of our boat. 
Want a brief tour of PIVOT? Then hit the play button below. Just want the specs and details of our set up? Scroll down for more information!
We are cruising on a 1989 34 Marine Trader Double Cabin. We bought our boat in January 2021 after pivoting our plans to internationally travel full-time. We've spent several hours giving her a spruce up with new bottom paint and accent colors, installing a cell phone extender, solar panels, and giving her a good clean. We've documented all of our boat improvements and projects on YouTube. 
Specs
Length – 34'
Beam – 12'6″
Draft – 3'6″
Height – 18′
Engine – Six Cylinder Ford Lehman Super 135
Transmission – Velvet Drive
Bow Thruster – Lewmar
Fuel – 300 gallon capacity
Fresh Water Tank – 145 gallon capacity
Black Water Tanks – 75 gallon capacity
Anchor Setup
Electricity
Water
Shurflo Aqua King Water Pump
Berkey Water Filter – Jen loves her Berkey water filter! It's not a boat specific item, so whenever we sell our boat, we can take our Berkey with us to our next adventure.
Helm + Navigation
Garmin Chart Plotter – this was the original navigation that came with our boat. Even though it is old and the maps are outdated, it still works just fine. There is a way for us to update the charts, however, it's on our never-ending list of boat projects.
iPad Pro 12.9-inch (4th generation) – We bought our iPad knowing that it would serve as our primary chart plotter for navigation. We love it because we can easily take our iPad with us to other boats to review routes for the next day or discuss cruising plans at our salon table. Our iPad does have cellular, however, it's not required as you can download maps ahead of time.
iPad Mount at the Helm – We recently added this iPad mount to our helm station
Nebo Link – Elliot installed our Nebo Link in November 2021 and we have absolutely loved having it. Not only does it record your travels automatically when we start our boat, but it also emails us a trip summary of our cruise for the day. The app allows us to connect with other boaters and Loopers (people who are doing the Great Loop) through a messaging portal. Nebo is a partner with the America's Great Loop Cruisers Association and offers discounts to members.
Navigation Apps
Cabins + Heads
Hypervent Aire-Flow Moisture Barrier from Mattress Insider – This product prevents moisture build up underneath mattresses and cushions and we use it under all of our mattresses.
1x Electric Toilet
1x Jabsco Manual Marine Toilet
Communications + Connectivity
Dinghy
West Marine Hard Bottomed – Our boat came with a West Marine hard-bottom dinghy when we bought her. The previous owners also made a dinghy cover which we use for UV protection to help extend the life of our dinghy.
Spirit Electric Propulsion Motor 1.0 – Watch our E-Propulsion motor review here.
Safety
Rechargeable Portable Handheld VHF Radio – We were given a used portable handheld VHF radio, so this is not the exact radio we have, however, it is very similar. We use our radio when we're on land and want to keep listening to the VHF channel 16/13 or when one of us is on the dinghy and another person is on our boat.
Rechargeable 22200 Lumen Lithium Ion LED Spotlight – We use this light when we're cruising at night to give us additional light for navigation.
Rechargeable LED Head lights – We use these headlights all the time! From daily engine checks to fuel filter changes and crawling in our lazarette for items in storage.
4 Type III Inflatable Life Jackets
6 Type III Inherently Buoyant Life Jackets
West Marine Dog Life Jacket
Man Over Board Kit
Distress Lights, Flashlights, Handheld Strobe Lights, SOS Lights, Flares, Air Horns, Whistles, Multiple Fire Extinguishers
Galley
Norcold Refrigerator
Dometic Convection Microwave Oven
Princess Dual Propane Stove
Insignia Deep Freezer
AeroPress – We use this for one cup coffee. It's easy to use, non-electric, and we can use it for a variety of coffee drinks (espresso, americano, or cold brew).
InstantPot – This is one of our favorite kitchen tools as it allows us to hydrate beans in significantly less time, cook oatmeal, soups, and a variety of other dishes without using our propane for extended periods of time. The InstantPot is a high power tool, so we'd recommend reviewing your power set up ahead of including this item in your galley.
Knife sharper – We cook a lot in our galley, so sharp knives are a must! We sharpen our knives with this non-electric, compact tool.
Other
AC Unit – FCF Series Marine Air Conditioner. This unit gives us both air conditioning and heat, however, we can only use it when we are on shore power. It came with our boat and we like it.
REI Deck Chairs – We use these chairs on our fly bridge when we have guests aboard or we take them to shore for beach chairs. They're light weight and versatile.
Magma Outdoor Grill – Our grill came with our boat from the previous owners, but this grill is very similar to the one we have, but better because the lid stays on. We love to cook outside when the weather is good or on hot days to make sure we're not heating up our galley and salon.
Outdoor LED String Lights – We call these our party lights. They are zip-tied to our bimini on our fly bridge and provide a great ambiance at night.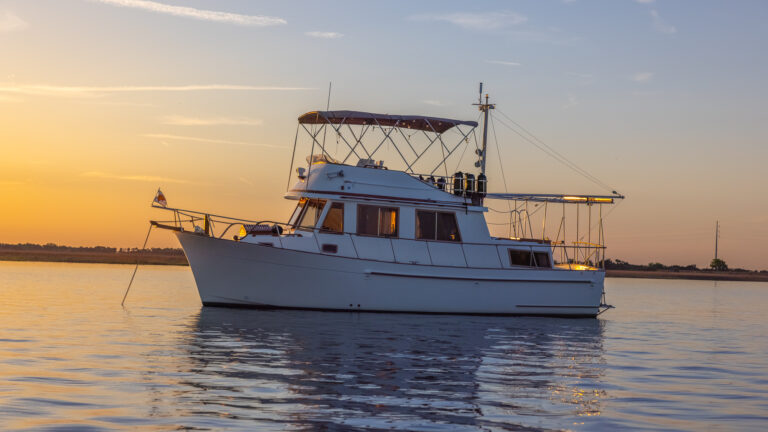 WHAT IS AMERICA'S GREAT LOOP?
America's Great Loop is a 6,000 nautical mile journey around the United States by boat. The journey can start in any section of the loop and is completed by "crossing your wake" or completing your circle. The loop can be done in a matter of weeks for high speed boats to months for lower speed boats. The loop has been completed in a variety of boats from motor boats (fast power boats, trawlers, tug boats) to sailboats and even jet skies. There is a particular "type" of boat that works well with the loop as it relates to bridge heights, but with modifications, most boats can complete the loop.
In 2015, it was reported that there were less people to complete the Great Loop than climb Mount Everest, Swim the English Channel, and run the Boston Marathon, making the Great Loop a journey very few people complete in a year or a lifetime. There are countless challenges to finishing the loop, making the completion an exciting personal accomplishment!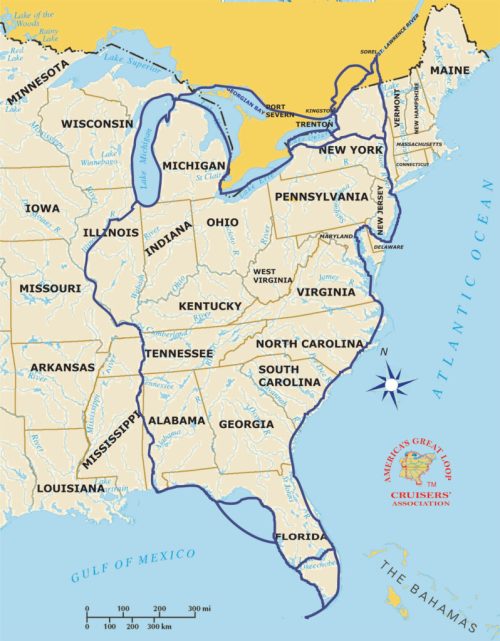 We are creating daily vlogs as we cruise around America's Great Loop in 2022 and sharing them on YouTube. We will show the highs and lows of cruising full time around the United States, highlighting many of the small towns and places we visit along the way as well as the big and small moments in between.
Although we attempted the Great Loop in 2021, due to an unexpected boating injury, we had to postpone our plans. After heading south 1,500 miles from the Chesapeake Bay to the Florida Keys, we are ready to restart our Great Loop and are more excited than ever! We hope you follow along and enjoy the ride. 2022 is going to be an incredible year!